NII Open Forum on Informatics
Open Forum on informatics will be held as follows.
This is aiming to progress toward the development of informatics by exchange opinions.
We are going to give you an opportunity to discuss the field of informatics with professors and researchers.
Date & Time:
August 30, 2005 (Tues.) 15:00-17:30 (two and a half hours) (Registration Closed)
Venue:
National Center of Sciences 12F (1208)
2-1-2 Hitotsubashi, Chiyoda-ku, Tokyo 101-8430 >>Access / Map
Schedule:
15:00 - 15:40
15:40 - 17:00
Questions and Answers:
17:00 - 17:30
Participation Fees: Free
Consecutive interpretation will be available.
Coordinator and Chair:
Professor Negishi, Director of the International and Research Co-operation Department, National Institute of Informatics
Lecture 1

"Usability and Experience Design for Academic information Services"
Lecturer:
Dr. Ikki Ohmukai, Assistant Professor of National Institute of Informatics (NII)

Abstract:
Because of progress in information retrieval technologies, academic information services can provide a huge amount of information at a time. However it will be needed more consideration for principle of usability and experience design.
This lecture discusses the issues from the viewpoints of common user, and proposes community-oriented information service.
Lecture 2
"The Role of User Centered Design Process in Understanding Your Users"
Lecturer:
Ms. Andrea F. Kravetz, Vice President, User Centered Design, Elsevier

Abstract:
The talk discusses the importance of a User Centered Approach (UCD) process in developing information tools such as databases. It details the steps necessary for implementation of a UCD process of understanding, designing and evaluating. A case study describing how the UCD methodology has been used at Elsevier to create Scopus, a large bibliographic search and navigation system is also discussed.
( in English, interpretation will be available)

Access
Tokyo Metoro Hanzomon Line / Toei Mita Line / Toei Shinjuku Line "JIMBOCHO"Exit A8, A9 Toyko Metoro Tozai Line"TAKEBASHI"Exit 1b 3-5 minutes walk from the stations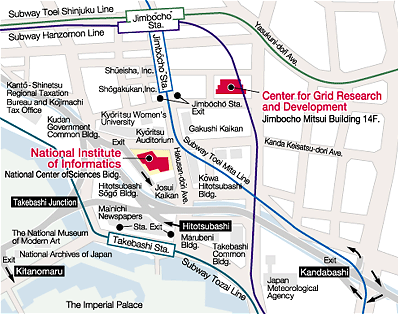 Secretariat
Publicity and Dissemination Activities Division
International and Research Cooperation Department
National Institute of Informatics
Tel: +81-3-4212-2145
Fax: +81-3-4212-2150
E-mail: openforum@nii.ac.jp
openforum-index
page570