Mission & Strategies
Weaving Information into Knowledge


Informatics to Create Future Value on the Wheels of Research and Service

The National Institute of Informatics (NII) is an inter-university research institute corporation and a research organization of information and systems. The mission of this unique national academic research institute is to "create future value" in the new academic field of informatics. From the basic methodology of informatics to cutting-edge themes such as artificial intelligence, Big Data, the Internet of Things (IoT), and information security, NII features in a wide range of research activities. We push forward with fundamental research valued from the long-term view as well as practical studies aimed at resolving current social problems.

As an inter-university research institute corporation, NII has taken on the task of building and running essential research and education information infrastructures for Japan's academic community, including the SINET5 science information network. In addition, NII develops and advances operations that provide academic content and online service platforms. Mutual feedback on the expertise gained through operations as well as from research enables us to carry out projects that relate scientific research to real problems, utilizing state-of-the-art technology. NII uses these activities in its efforts to train talent and contribute to society at large, while administering vital collaborative ties to private enterprise and various social programs in addition to our connections with foreign/domestic universities and research institutions.

The National Institute of Informatics also is committed to providing graduate education that promotes creative, world-class scientific research with the aim of pioneering the development of leading-edge disciplines.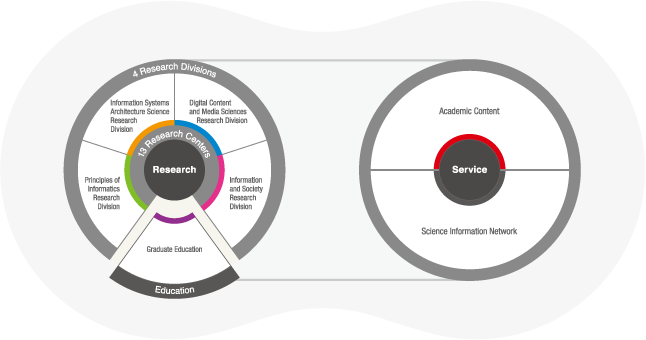 Integrated Research from Basic Methodology to State of the Art
"Informatics" combines not only technologies like computer science and information/communications engineering but also the humanities, social studies, and the life sciences. This new academic domain involves every aspect of culture and economics. NII has established four basic Research Divisions--namely, Principles of Informatics, Information Systems Architecture Science, Digital Content and Media Sciences, and Information and Society--plus 13 Research Centers charged with systematically accomplishing specific tasks. From the basic methodology of informatics to the state-of-the-art in artificial intelligence, Big Data, the Internet of Things (IoT), and information security, NII advances the integration of research and development. Furthermore, our informatics research is directed toward spurring international study activities and collaboration with industry, government, and academia.
Services to Support Research Infrastructure and Education
As an inter-university research institute, NII coordinates with academic institutions and the research community. For starters, it built and now operates the Science Information NETwork (SINET5), the world's most-advanced, high-speed network linked to domestic and international sites. NII furthers the development of cloud systems and, in its push for open access and open science, drives the development of academic information infrastructures as well as practical ways to utilize them. NII also collaborates with national universities to promote the education of cybersecurity personnel through its unique capacity to detect serious cyber attacks, supply defensive information, and sponsor in-service training. Our aim is to enable national universities to respond quickly to security incidents. In addition, NII strives to contribute to improving the international competitiveness of education research, accelerating studies on leading-edge topics, developing interdisciplinary programs, promoting more efficient research, and enhancing the functions of universities.
Fostering New Leaders of the Advanced Information-Communication Society (Graduate Education)
The National Institute of Informatics graduate education involves (1) participation in courses at the Graduate University for Advanced Studies, (2) cooperation with other graduate schools, or (3) acceptance of special joint research fellows. The Graduate University for Advanced Studies (a national university corporation) is Japan's first graduate university. It was established to push original, world-class scholarly research beyond the borders of conventional disciplines and to open up new paths of scientific inquiry. For its part, the National Institute of Informatics has set up a graduate department of multidisciplinary science and informatics to offer a five-year doctoral program as well as a post-doctorate program. Six areas of instruction are covered: fundamentals of information science, information infrastructure science, software science, information media science, intelligent systems science, and information environment science. These areas break out into more than 70 class subjects. The department is pleased to accept talented people from overseas into the many English-language lectures. Working adults account for around 30 percent of registered students.
Collaboration with Industry,Government, and Academia
While engaged in pragmatic research and development aimed at resolving social problems, NII promotes collaboration with industrial, governmental, and academic entities to find ways of implementing the fruits of research. Public appeals go out to universities, private-sector institutions and municipalities for investigative partnerships. NII's efforts include cultivating cybersecurity talent, sponsoring programs that train top-level systems engineers, and supporting cooperative supplementary schools that encourage the collaborative approach by providing information gathered on the frontiers of research. Our research facilities were set up with the objective of returning accomplishments to society through industry-academia collaboration.
International exchange
Beginning with the dissemination of research results, our global contributions to the study of informatics include the formation of research centers that foster international collaboration and aggressive exchanges of researchers and students. The world's top researchers gather together for the NII Shonan Meeting, which consists of intense, training-camp-style discussions of issues affecting the informatics field.
The conclusion of MOU agreements that NII actively seeks out with foreign universities and research institutes leads to researcher-student exchanges for international collaborative investigations, study exchange assistance, and internship programs.