Greeting from the Director General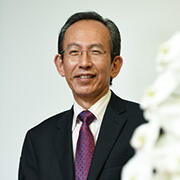 KITSUREGAWA Masaru
Director-General, National Institute of Informatics
Inter-University Research Institute Corporation
Research Organization of Information and Systems
---
There are three basic kinds of hardship that afflict humanity. The first is natural disasters. Japan has been subjected to major earthquakes and floods quite frequently in recent years. The second hardship is epidemics. Right now, COVID-19 is raging throughout the world. And thirdly, there is war. Russia's invasion of Ukraine is wreaking devasta-tion. So, we are currently facing all three kinds of hardship.
Many people have even started to feel that things will never go back to how they were. That is precisely why we need to move forward with a positive focus on the future, rather than just waiting to see what happens. The National Institute of Informatics (NII), Japan's only academic research institute dedicated to informatics, is now proac-tively pushing ahead with important measures for the future, without any defensiveness at all.
An initiative that symbolizes this approach is NII's "Next-generation Academic Research Platform," which was rolled out for universities and research institutions in April 2022. This platform was developed by advancing and fusing the high-speed networking system and research data infrastructure that NII has long operated.
Our SINET5 high-speed network system, which was running nation-wide at 100 Gbps, was upgraded in April 1, 2022, to become the 400-Gpbs SINET6, the world's fastest ultra-high-speed national network infrastructure.
At 400 Gbps, it is possible to transfer a 50-GB Blu-ray disc worth of data in just a second, and to stream 8K video in real time. Although a shortage of semiconductors and other factors have slowed the rollout process, approximately 1,000 institutions were using SINET6 as of April 2022.
NII's Research Data Cloud (NII-RDC) was initially equipped with the basic functionality to store, manage, and utilize research data. However, we have energetically continued to add more functions to the system, such as analysis functions for ensuring reliability, functions for systematically supporting the training of data manage-ment personnel, and functions for calculating data in cryptographic spaces when collaborating with private companies.
Our academic research platform combines SINET6, which serves as the "lower body," with the advanced functionality of NII-RDC, which serves as the "upper body." As a supporting foundation for the whole of Japan's academic community, the platform will not only contribute to world-leading research, including Nobel Prize-level investigations, but also powerfully promote interdisciplinary research and interna-tional joint research through the promotion of open science. Further-more, the platform will facilitate digital transformation ("DX") at univer-sities and other institutions. On top of this, it is expected to make a significant positive contribution to society through industrial applica-tions and utilization in lifelong education and elementary and second-ary schooling.
In May 2022, another important NII initiative, the "DX Symposium for Educational Institutions," held online regularly since March 2020, was held for the 50th time. Originally, the meetings focused on sharing the lessons learned from trying to hold online classes, mainly between the seven prestigious national universities, but they soon became valuable webinars for exchanging a wide variety of knowledge about digital transformation in education, including clinical practice (hospital rounds) at medical schools and the online implementation of physical education skills. At the 45th symposium in January 2022, held as a New Year planning event, FUJII, Teruo, president of The University of Tokyo, gave a lecture in the Metaverse, an online virtual space platform. The lecture was watched live in various formats by an audience of approximately 1,700 people. Ironically, it has been the COVID-19 crisis, which has tended to weaken the connections between people, that has inspired this organic gathering to continue online for two whole years. It has turned out to be a very valuable journey.
NII has also pursued research on "security," as system defense measures, to keep up with the latest changes in computing environ-ments. In July 2021, NII launched the Global Research Center for Synthetic Media, which pursues research on detecting fake media and ensuring media reliability. In September 2021, NII developed "SYNTHETIQ: Synthetic video detector," a program for automatically detecting fake AI-generated facial videos. For a long time, NII has engaged in research on the generation of audio, images, and video for practical public infrastructure. Now our research findings are also being used for security measures like these. To counter the threat of cyberattacks on SINET, the Center for Strate-gic Cyber Resilience Research and Development operates Security Operation Collaboration Services (NII-SOCS), to facilitate inter-univer-sity cooperation. Since the launch of SINET6, the security functions at data centers have also become more robust. Despite the frequen-cy of cyberattacks in recent years, NII's network and research data infrastructure has not experienced any major disruptions.
NII is committed to making even more dynamic contributions to the public good over the coming years by applying the findings of its various kinds of informatics research to improving academic research infrastructure, all the while accelerating synergies using the feedback obtained from studies to drive further research.
One of the models for this approach is our medical big data cloud platform. This was developed by NII in response to the COVID-19 crisis, based on earlier research into medical big data infrastructure. The project began by collecting a large volume of medical images from medical institutions all over Japan, through academic societies in multiple fields of medical diagnosis and treatment. With around 300 million images, this medical big data cloud platform is interna-tionally unrivalled. The database has powered a substantial advance in AI analysis of medical images and remote medical care. In April 2022, the work of the responsible NII research group was recognized by the Ministry of Education, Culture, Sports, Science and Technolo-gy with an Award for Science and Technology. A paper on "nature-machine intelligence" in the MIT Technology Review, the world's oldest science and technology magazine, stated, "As of 2022, there was no practicable COVID-19 pneumonitis AI anywhere in the world." Yet, in fact, NII had developed such an AI tool; one that was even endorsed by the Japan Radiological Society.
The key factor in successfully making such concrete contributions to a data-driven society, with a strong presence, is collecting massive amounts of data. And the essential requirements for this are an "eye" for data design and the spirit to keep on tackling new challenges. We look forward to seeing more NII breakthroughs in the years ahead.
May 2022