Center for Robust Intelligence and Social Technology:CRIS
About the CRIS
Mission
By promoting basic researches on "Robust Intelligence" and problem solutions on "Social Technology", Center for Robust Intelligence and Social Technology (CRIS) aims to realize innovations on science technologies, which lead to progresses for solving various social problems. By doing so, we plan to create seeds for innovating technologies based on "novel" science knowledge.
Overview
CRIS is an NII division for joint researches established jointly by NII and LINE Corporation in April 2018. Focusing on "robust intelligent bases" and "technologies solving social problems," we work on research and development of information technology (IT) that can solve social issues, with intellectual ability that has the strength to cope with constantly changing and diverse real-world environments.
In order to realize nation-wide collaboration, CRIS enlarges commitments of researchers belonging to universities and research institutes of Japan by operating several commissioned researches as follows.
Content of Implementation
Abstract of the Program
Researches on elemental technologies that support the knowledge base (robust intelligence) with robustness to cope with diverse real world environments
Robust intelligence covers all aspects of computational understanding and modeling of intelligence in complex and realistic situations, and is a higher-level concept that comprehensively deals with artificial intelligence (AI) and big data. Robust Intelligence is the knowledge base for realizing "integrated-progress" in researches on AI, computer vision, natural language processing, machine learning, computational neuro-science, cognitive science, and related areas. CRIS organizes individual researches for developing elementary technologies of the related areas, and inter disciplinary researches for constructing Robust Intelligence.
Research on applied technology utilizing robust intelligence for social problem solutions
Outcomes of the researches will be applied to solve various social problems, to which Japan is now facing, such as low birth rate and aging, widened gaps on education, information, lives, etc.: attempts will be done for seeking ways to solve these problems by using Robust Intelligence and related elemental technologies.
Field of the Program
※This research program crosses a wide area, being limited as follows.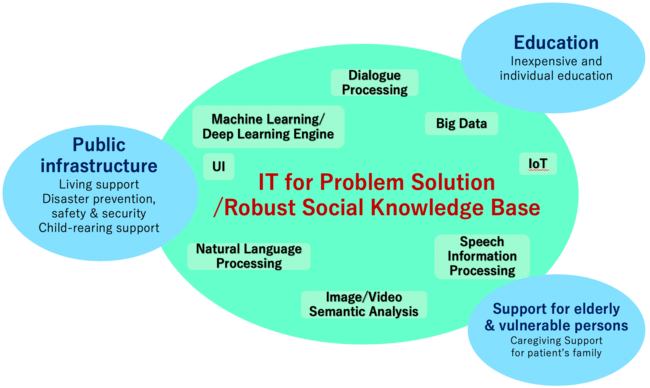 Organization
Director
KITSUREGAWA Masaru (Director General, NII)
Deputy Director
KUROHASHI Sadao (Visiting Professor, NII/ Professor, Graduate School of Informatics, Kyoto University)
Secretariat
AIZAWA Akiko(Professor, Digital Content and Media Science Research Division/ Advisor to the NII Director General)
SATOH Shin'ichi (Professor, Digital Content and Media Science Research Division)
HIROSE Keiichi (Project Professor)
ASANO Yuki (Project Specialist)
NOMURA Yuko (Assistant Clerk)
Contact
National Institute of Informatics(NII)
Center for Robust Intelligence and Social Technology(CRIS)
Address:2-1-2 Hitotsubashi, Chiyoda-ku, Tokyo 101-8430, Japan
Phone:+81-3-4212-2591
E-mail:cris-info[at]*nii.ac.jp
*Please replace [at] with "@".