About Us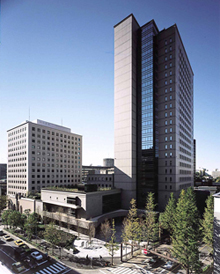 SOKENDAI(The Graduate University for Advanced Studies) is a national university founded in October 1988 as the first institution of higher education to offer graduate-only education. While the main office of SOKENDAI is located at Hayama, Kanagawa, its branch offices are dispersed among 18 research institutions, each of which offers top-quality graduate study in a specialized field ranging from humanities and social sciences to natural sciences.
The National Instutite of Informatics, called NII in short, is one of the 18 institutions accepting and educating graduate students belonging to the Program in Informatics of SOKENDAI since April 2002.
NII is the only national institution in Japan dedicated to the research on informatics.
It covers a broad areas of research including the principles of informatics, architecture of information systems, software engineering, multimedia systems, intelligent systems, and information society and environment. NII is also engaged in the development of an advanced infrastructure for disseminating scholarly information, and plays a leading role in several national projects such as SINET4 (ultrahigh-speed Network for Science Information) and CiNii. These projects will provide ideal testbeds for new thoughts and ideas in large scales, which are not easy to otain in ordinary universities. As of April 2014, there are about 400 faculty staffs at NII, including 80 professors and 100 visiting professors. NII also collaborates with other academic, governmental, and industrial institutions in research and development. In particular, more than 80 agreements have been made with foreign universities and research institutes, which promotes exhange of researchers.

In such a stimulating environment, students can foster wide and profound knowledge in informatics while broadening and deepening their views in their special fields. Furthermore, each student can choose among a rich and flexible course menu fully customizable to his/her own needs. For example, foreign students can take courses in offered in English, while students working in the day-time may have discussions using e-mails or e-learning facilities with their supervisors. As of April 2014, 78 students of SOKENDAI are studying at NII, among which 43 are foreigners and 21 are working in the day-time. We also accept students from other universities such as University of Tokyo, Tokyo Institute of Technology, and Waseda University.