Mission & Strategies
Future Value Creation through Informati cs by Advancing Research and Operations in Tandem
As Japan's only general academic research institution seeking to create future value in the new discipline of informatics, National Institute of Informatics (NII) seeks to advance integrated research and development activities in information-related fields, including networking, software, and content. These activities range from theoretical and methodological work through applications.
As an inter-university research institute, NII promotes the creation of a state-of-the-art academic-information infrastructure (the Cyber Science Infrastructure, or CSI) that is essential to research and education within the broader academic community, with a focus on partnerships and other joint ef- forts with universities and research institutions throughout Japan, as well as industries.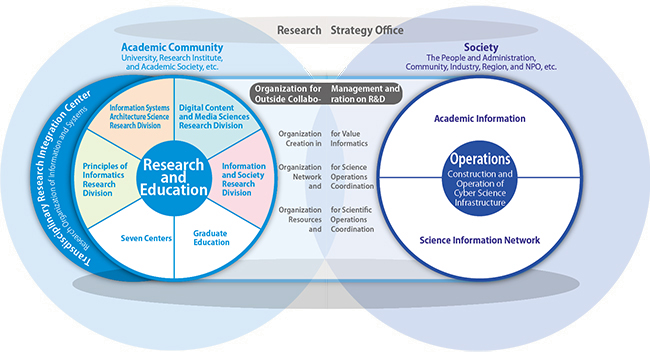 Advancing integrated research and education in the field of informatics
Informatics is a new academic discipline based not just only on computer science and information technology, but on the human, social, and life sciences. NII advances informaticsresearch with the goals of creating future value; furthering social and public contributions;promoting interdisciplinary approaches to information processing; partnerships amongindustry, government, academic, and civilian organizations; and international research activities and operations. NII has established four research divisions, seven research centers, the Organization for Management and Outside Collaboration on R&D.
Promoting the Cyber Science Infrastructure (CSI)
NII advances the formation and operation of the CSI, a state-of-the-art academic information infrastructure. Through these efforts, the entire research organization comprising the Organization for Scientific Network Operations and Coordination and the Organization for Scientific Resources Operations and Coordination, that which plan and manage partnerships and cooperation with universities and other institutions throughout Japan; the Cyber Science Infrastructure development Department, that which handles development and operation of information systems; and the research centers that promote researcherparticipation and incorporation of the results of research contributes to the academic community and society.
Research
Seeking to establish a new academic discipline through the promotion and systemization of a wide range of informatics research ranging from natural science to human and social sciences, NII aims to create future value through new theories, methodologies, and application deployment, thereby contributing to the development of informatics.
Partnerships between industry, academic and government sectors
NII encourages close partnerships between universities, public research institutions and private institutions to conduct projectbased joint studies, as well as human resource development and to promote the utilization of its research results in society.
Interdisciplinary information processing
To further the development of new domains through synergistic efforts between cross-functional interdisciplinary research and diverse academic disciplines, NII undertakes cross-functional transdisciplinary integration research at the Transdisciplinary Research Integration Center of the Research Organization of Information and Systems.
International exchange
NII strives to further the international contribution of informatics through the active promotion of international exchanges between researchers and students and an approach focused on the formation of an informatics research center through international collaboration, in addition to publishing its research results internationally.
Social contribution
NII seeks to achieve harmony between society, culture, and social systems in addition to creating platforms and portals that make effective use of content to disseminate and enliven social and public activities in the field of academic, cultural, education, publishing, environmental, regional, and NPO activities.
Graduate education and human resource development
In the Ph.D. program for informatics in the School of Multidisciplinary Sciences at the Graduate University for Advanced Studies, NII aims to nurture world-class researchers in the field of informatics and establish a base for the development of engineers with the skills to link the industry with academics to develop high-level human resources.